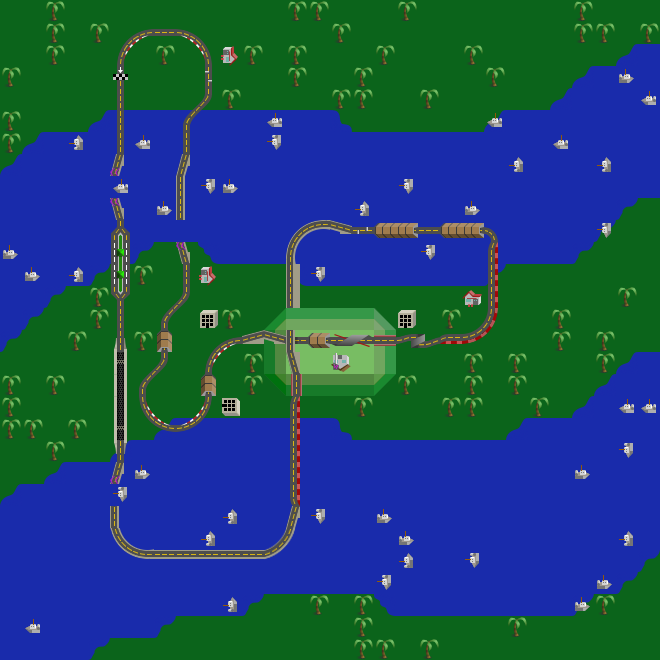 Title: Goodbye, Republic!
Author: Cas
Created: 2019-10-31
Cars allowed: Porsche 962 IMSA
Style: OWOOT
Ran: 2019-10-31 - 2019-11-26
Download track

Cas @2019-12-30 03:00:40 UTC
Thank you, guys, for your support. There'll be a next season
dreadnaut @2019-12-23 14:33:01 UTC
Yes, thank you for running this Cas!
Duplode @2019-11-30 01:18:17 UTC
Thanks for hosting us, Cas!
Cas @2019-11-26 01:22:09 UTC
All replays published, including the most recent one from Duplode, that has just been verified! Thank you guys por participating in this season. We'll be on again next year!
Cas @2019-11-18 07:06:23 UTC
Well, the chat died again. I'll have to fix it one day, but I did read your message, Duplode. Just verified your replay. I was saying that I remember OWOOT tracks from the middle 2000s, such as WSC tracks and yes, they were very special too. Designing OWOOT tracks has to be different and today, when OWOOT is not as strong as it used to be, when you come across a track made thinking in OWOOT, it brings a certain nostalgia. I wish we still had four or five tournaments active at the same time like back then
Cas @2019-11-18 07:03:16 UTC
Thank you. Just verified your replay. Yes, OWOOT remains alive, but doesn't have the push it had in the middle 2000s. The design has to be different from that of free-style tracks because the fun is not in the tricks you can make, but in the skill to optimise your driving time through obstacles. I do remember tracks from the WSC era and it's true, there was something special about them too.
Duplode @2019-11-18 01:28:48 UTC
A first shot — hopefully I'll get another go at some point along the week. This track reminds me a bit of my Southern Cross tracks from way back.
Cas @2019-11-12 23:53:13 UTC
Verified! Thanks for posting. Not being able to hear sound really is a drawback for racing, yet your lap is good. I'm looking forward to seeing your next
dreadnaut @2019-11-12 20:43:48 UTC
Here's a first try, but with auto gear since I didn't have any sounds. I'll be back for a proper lap, and a NoRH one—it's quite an interesting track!
Cas @2019-11-04 02:23:36 UTC
Verified your updated replays, Seeker!
Cas @2019-11-02 01:30:36 UTC
Hey! Thanks for posting. As I see it, you are doing that corkscrew perfectly. As long as you execute all stunts, it's OK if you use speed-ups or if you grab the wall a little later. Both replays verified and I've posted mine
Seeker1982 @2019-11-01 15:11:48 UTC
Just uploaded my first successful runs on this track so lots of room for improvement. However I'm not sure I can jump into the horizontal corkscrew like that - is this still legel in OWOOT?
Cas @2019-10-31 23:09:06 UTC
A new race has just started! Whether you mind or not about the political background, I'm certain you will enjoy this track. It's dynamic and it seems my creativity was sparking at the moment, ha, ha. As I said in the news, this will be the last race of the year, so come and participate!